This is for you if...
You are surviving or recently escaped a toxic job that left your confidence in tatters.
You want to be done with self-doubt and the sneaky ways it strikes at the worst times - like in a job interview or in 1:1 meetings with your boss
You feel ready for the next level in your career but freak the eff out when you think of actually *being at that level*
You just got a promotion and are freaking the eff out because who are you to be the boss?
Let's not even talk about how you feel when negotiating your salary or pay raises.
or worst of all...
Have you been waiting for your boss (and the world) to see you're a badass high potential professional...


Before you'll admit it to yourself? You can't wait anymore

If you said yes to any (or all of those) questions… you are in EXACTLY the right place, my friend

The lie you've been sold, is that once you achieve confidence will follow.
But it works the other way around.

HERE'S THE SHIFT...
When you know that what you are about to say need to be heard… people stop and listen.
When you know how capable you are… you succeed with ease.
When you are aware of how ridiculously overqualified you are… the promotion is obvious.
When you know you're a high potential in-demand professional (and lack any pick-me energy)… job interviews become interesting conversations, where they're selling you on the opportunity.
When you know the value and impact you bring… salary negotiations become picking and getting your number without the stress or drama
When you accept and love who you are and your unique awesomeness… you change the game.
 When confidently believe and know the potential you have… other people will see it too

You don't have to change everything about yourself, become a vapid GirlBoss Barbie, or spin your wheels trying to prove yourself to other people...
In fact… all of those things are express tickets to Imposture Syndrome and Self-Loathing (IMHO).
The only person who needs to believe in you… is you.
When you realize how capable, talented, and full of potential you are… you get that confident AF vibe
And that magnetizes people, opportunities and money to you. 
I know because I've mastered the vibe… and reaped the benefits.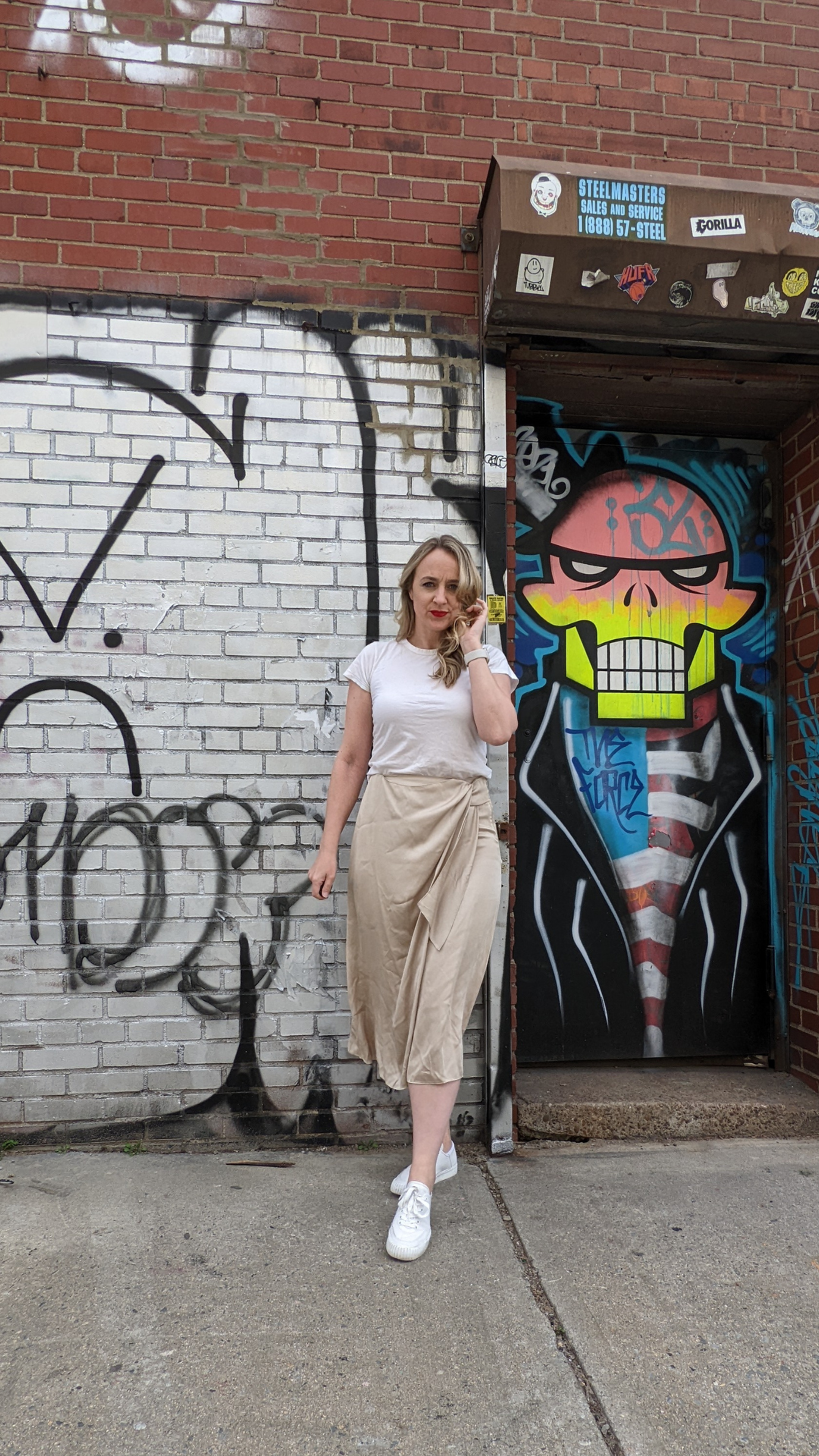 I'm an award-winning Career Strategist who is an expert at flipping the odds and changing the game… even though it was designed for me to fail.

I don't have an Ivy League degree, MBA, I didn't grow up under big expectations, and TBH I always lacked a willingness to change myself to suit the system. So I treated my corporate career as participant observation research… and by applying what I learned, I rose from an entry-level role to an executive position in just over three years.
Because the one quality that separates the fast risers and golden boys from the ones who struggle and get stuck?
Is confidence.
And if you aren't confident in yourself… how can anyone else be? 
I truly believe if qualified and capable people advanced in their careers… the corporate world would be more equitable, less toxic, and just a happier place in general.
That's why I'm so passionate about helping YOU succeed.
We need to de-Chadify leadership… 
And we do that by getting awesome, empathetic and talented people like you into positions of power.
So you can change the game for everyone else.
Big change begins at the basics…

It's unlocks a level of 
conviction
 where no one will question you.
It's how you gain so much 
authority
 that people stop to hear you speak.
It's how you get companies begging you to consider interviewing with them and 
throwing money
 at you to do what you do.
It's how you stay 
unfazed & unbothers
 by catty (and toxic) coworkers.
It's how you get the 
attention, respect, and adoration
 of the people who can create opportunities for you beyond your wildest dreams.
And I'm not talking about silly superficial confidence driven by other people's validating
 Too many people try to fake it till they make it, chase social media likes, or hope their boss notices their hard work.
 And while those things might provide temporary boosts…
 They never last because confidence is an inside job.
 It also happens to be the key to unlock so many doors…
Confidence gets people on your side 
Let's face it… power begets power, and leaders align with high potential professionals who make them look good. But when you're a badass who owns any room you walk into… everyone wants to be around you.
Confidence decreased drama
When you're playing your game, making an impact and owning your awesomeness… other people's drama just doesn't matter. You don't have to worry about being undermined when it's obvious you're the top performer who is a shoo-in for the next promotion. No one can make you look bad when you're so obviously awesome.
 Confidence unlocks opportunities
When you're confident in what you bring to the table, the impact you can make, and what you're capable of… other people will be too. That's the je ne sais quoi that gets you hired, promoted and assigned to lead that stretch project. 
Confidence gets you paid 💰
High earners don't have confidence because they get paid a lot. They get paid a lot because they're confident AF. That energy is what they walk into a salary negotiation with or when they ask their boss for a raise.
Confidence is a reality bender
If you're like most of my clients, you don't have the odds stacked in your favor. You're the only woman in the room, the only one on your team without an MBA (or any degree at all), the introvert trying to make it in a world of outgoing extroverts. Those stats are telling a flat story about what is 'normal,' but you aren't normal.. You're exceptional - and deep down you know this.
Confidence puts you in control of your career
From recovering from a toxic job to putting up with zero BS before you bounce to the next opportunity… When you are in confident - you have agency in your career.

And it doesn't have to be complicated... That's why I'm excited to share

Exactly What's Inside?
The Career Confidence Crash Course Trainings, a five-video series and includes bonus downloadable audio version to take on the go with you. This is my favorite training video series I've recorded to date, and it's such a vibe. (value $2,222)
Bonus Module: Evidence for your Brain to accelerate and reinforce your self-belief. (value: $333)
Confident AF Guidebooks to accompany each module with prompts that make this easy AF (value $122)
Confidence Affirmation Meditation (value $44)
Lifetime access, so you can come back to the course whenever you need (includes future updates, value: priceless)
Upgrade Credit: if you choose to upgrade to the Career Glow Up Accelerator or Toxic Job Detox, you'll get credit to put towards enrollment within 12 months (value $333)
30 Day Money Back Policy* try the course and if you realize it's not for you, we'll give your money back (value: peace of mind!)
That's a total value of over $3,054
LIMITED TIME BRING A BESTIE BONUS!
Since success is not solitary, and upleveling is MUCH more fun with a friend, if you enroll before Janaury 1, 2023 you'll get an extra enrollment to give to a friend! Check your email after you enroll for your unique code to enroll a friend for free and get confident AF together.

You will automatically receive instructions on how to give ONE (1) gift enrollment by email. The bestie bonus enrollment must be completed by April 30, 2023.

START GETTING CONFIDENT AF NOW
Frequently Asked Questions
How long will this take?
Let's be extremely clear: this is not a magical pill that will give you deep inner career confidence overnight. Anyone who tells you this process is instant… is lying to you. I've designed the Career Confidence Crash Course to be rapid - but it takes time (and work). You'll get instant access to Module One when you enroll, then every 3 days the next module will unlock. You can follow at this pace, or slower, or binge them all when they're unlocked.
When are the trainings?
Whenever you want! These are all on-demand so you can do them on your time at your pace and in the comfort of not having a chat window distracting you. 
Do you guarantee results?
I wholeheartedly believe in this process and that it will change your career (and your life)... that said, I cannot guarantee any results. Ultimately, this is inner work that you need to do. I can guide you, I can give you tools, but the work is still on you.
Do you offer refunds?
I put my money where my mouth is. I hate the thought of anyone being incredibly unhappy and I know there is no way we would stay Career Besties with a vibe like that, so I offer a 30-day money-back policy., or until you use the Pick My Brain 1:1 coaching session that is included with this bundle (once you've had the 1:1 coaching, we cannot refund).
What if I need more help?
You can choose to add a second 20 minute Pick My Brain session, or upgrade during enrollment for the Career Glow Up Accelerator or Toxic Job Detox
How long do I get access to the crash course?
It's lifetime, my friend! You pay what you pay today, and you're in 4eva. 
How is this different from your YouTube channel?
Frankly, none of my programs or workshops can be compared to my YouTube channel. While I have also made sure to provide high-quality and transformative free content… it's always limited by the fact I have to structure videos for mass consumption (and play optimize for YouTube's metrics. This crash course goes significantly deeper than I can in any video or post, allows me to structure everything so it's a seamless process for you, add extras like guidebooks and downloads, and this is super hippie, but this gets you closer to my energetic field - I'm a powerful transmitter and I share generously with my clients.
I can't decide if this is for me…
If you feel pulled, you have a feeling this is the thing you need, that's your knowing sending you a signal that this is the thing you need. As I mentioned, our brains are blockers for change, even positive change because same = safe. You might be trying to talk yourself out of changing your career (and your life is what I'm saying... but ultimately I believe you know what's best for you.