You're tired of being overlooked, underrated, and taken advantage of at work.
You want to be able to say no when you boss makes that last minute request that will keep you online late.
You want to shutdown your toxic coworker who keeps taking credit for your work.
You want to be on the express track to the promotion, pay and praise you know you deserve.
The problem isn't your tactics.
The problem is you're a people pleaser.

You've tried to scripts you heard on TikTok to say no at work.
You tried the strategies to stop desperately trying to get approval from, well, everyone.
But none of them worked. Here's why:
You can say the right words. You can deploy the correct tactics. But until you establish don't f*ck with me energy… you'll continue to be a pushover.
That's why it's time to enter…
Your Villain Era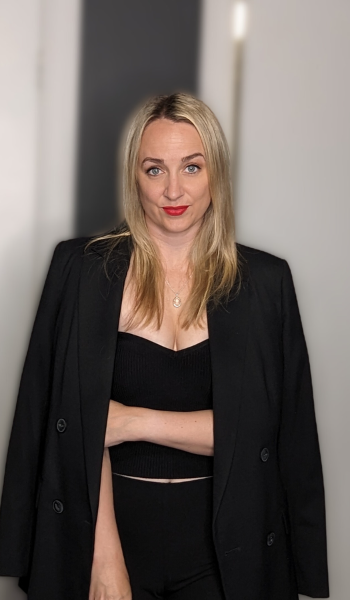 What is a Villain Era?
Becoming the corporate villain means that you stop giving a f*ck about the opinions of people who don't matter. That you're not just aware of what you want, but you're unapologetic about making it happen. That you're energetically unavailable for the BS of your boss or toxic coworkers - and it's ✨so obvious✨ no one is going to try you.
Becoming the villain means you release the expectations of others because you care most about the expectations you have for yourself.
This is a whole vibe when it happens. It repositions you from playing the game your toxic coworker and dealing with unnecessary drama and obstacles and work and lets YOU create the rules everyone else will play by.
It saves you from burning yourself out trying to gain visibility because your boundaries protect your time (and stop you from wasting it on tasks you don't wanna do and that no one cares about).
It stops you from giving any effs about anything anyone says or does.
How are you going to do that?


You're going to commit to your Villain Era and go DEEP.
There's a reason toxic positivity is toxic - it masks what's happening that triggers your people pleasing, inability to say no, and makes you the target of mistreatment at work (and let's be honest, in life).
To enter your villain era you need to do these three things:
✨ Start healing from the trauma you experienced. Whether it was a bad job or a toxic AF work situation. And by heal I don't mean repress like shady TikTok Career Coaches will tell you to.
✨ From there, you're going to rebuild your confidence and shift from gaining it from others to become the source of your own unshakeable confidence.
✨ Know and own what sets you apart from everyone at your company (and in your industry) to accelerate your career - whether that means getting a promotion, being the only and obvious candidate for your dream job (in any economy), or getting a big ol'pay raise 💰
Sounds simple enough… until you realize that trauma recovery and confidence building are skills no one taught you 😬
Don't worry I'm not gonna leave you hanging here wondering WTF to do bestie.
Because not only have I been through it. I've researched. I've studied. I've taken formal and informal education paths. And I found the tools that work and have helped thousands of people get over their toxic jobs (for real).
And I put something together for you if you don't want to DIY this.
In an easy-to-follow format with steps laid out.
With prompts that will help you heal yourself.
So you can stop taking the lipstick on a pig approach.
And enter with your Villain Era with ease, guidance, and unalone.
Meet the Villain Era Bundle
My top 3 courses, all bundled together at an extremely special price so you can activate your villain era.
Step 1: WTF Just Happened
You've gotten the ick at work. Maybe you had (or have) a toxic AF job. The first step to breaking the toxic job cycle is to identify exactly what is making it toxic. (Spoiler: I'm working on a revamp to elevate the impact of this workshop, and will be raising the enrollment price by about 4… but once you're in, you're in for life - including upgrades)
valued at $149
Step 2: Get Confident AF
Confidence is contagious - it's also an absolute game changer in your career. Once you see your power and potential, everyone around won't be able to ignore it.
valued at +$2,200
Step 3: Know & Own Your UAQ
The thing that sets you apart will be like adding jet fuel to your career growth at this phase. In the UAQ Expansion Pack you'll go deep, build self-awareness of all your awesomeness and potential, and decide with precision exactly how to leverage it to meet your next career goal.
valued at +$600

You could buy each course individually, and I price everything as a total steal already - but to get that villain vibe going, I thought this bundle needed villain pricing.

It's time to put yourself first, get over the shit that's holding you back, and get on the fast track to the promotion, pay, and praise you deserve.
It's time to enter your Villain Era.

FAQs
What if I enroll and realize it isn't for me?
I'm in my villain era, but I'm not a villain who will snatch your money if you are unsatisfied. Nor will I gaslight you into justifying holding your money hostage if you're not happy until your cognitive dissonance kicks in. So here's what I do: I save you and me the stress (and Botox bills that ensue) by offering a 30-day money-back policy. I won't make you jump hoops and prove you did something that wasn't working for you. Just email me within 30 days and I'll refund 100% of your money - and we can still be besties.

What's makes you different from other Career Coaches and this bundle different from others?
Great question, glad you asked friend. First, everything I do and offer is grounded in research. And not 'I watched this video so now I think I'm trauma informed' kinda research. I'm obsessed with, and live and breathe the topics I teach, and every strategy has brought me (and thousands of others) success. Second, I put my money where my mouth is. No one in my space offers the money-back policy I do. And finally, I know career tactics don't matter. There's no script, strategy, or slogan that will work when you're walking around with trauma wounds and lacking belief in yourself. So I'm going to bring you below the surface in this bundle. There's not going to be fluff. There's going to be guidance to realize your inner knowing and discover who the f*ck you are (spoiler: a high potential badass, obvs). Oh, and you get lifetime access so you can go through this process on your timeline and repeat it whenever you feel called to.
Can I just watch your YouTube videos or TikTok?
I don't gatekeep info, so if you're going to enroll and expect to hear exclusively things you've never heard before, save yourself the time and skip enrolling. That said, this is totally different than my freely available videos for a couple of simple reasons. First, my free videos are optimized for mass viewing... so I'm limited in depth and topics because not everyone is ready to go deep. My courses are purpose built with precision; I can go places I don't in free videos, and you get downloads, workbooks, and most importantly a cohesive flow to follow. This bundle will make the process easier, more thorough, and more efficient. 
I'm plotting my escape. Does this cover my resume and LinkedIn?
I didn't include specific job search tools in this bundle, but based on the DM convos I've had with a lot of my besties, I know it's a need. The UAQ and confidence pieces are going to help you so much for all your job search assets, in job interviews, and when you're negotiating the job offer that's coming for you. That said, I set up an optional add-on of the Job Seeker Bundle (at a sweet price too!); it includes Remarkable Resume to help you build a badass resume and Set Up to Standout on LinkedIn to optimize your LinkedIn profile and begin your networking strategy.
Can I enter my Villain Era on my own without spending any money?
If I was a typical career coach, I would gaslight you here and make narcissistic proclamations about how you'll only succeed with my help and that you're doomed for failure if you don't enroll RN. Thank god I'm not that person because codependency like that is toxic AF and against your best interest. Here's what I'll tell you instead: you can do anything. You're smart, resourceful, and so many other things. The real question is: how do you want to navigate the process to stop giving a f*ck, become confident AF on your own, and start accelerating your career? If you have time and this isn't urgent, you can try to DIY it. But if you want to remove the guesswork, use a proven process, and enter your villain era ASAP, maybe this will help. Trust yourself and what you want - your knowing will not misguide you.
I got a secret promocode from Jennifer in my email, but it's not working. Help!?
First, love that you're a Career Bestie Insider (my free email list that gets you early tip-offs, special offers, and notes from me I don't share anywhere else). Double check the promocode you're using, because I emailed one that is unlimited use for all of enrollment, and two that had time or usage limits I indicated in the emails. Click reply on the email if you're not sure which to use and we can help! Psst: if you want in on the promocodes, become a Career Bestie Insider!